Joined

Jun 8, 2009
Messages

4,134
Location
Issued by the Angling Trust:
Artist Andy Steer – well known for his "Angling Knots" films and illustrations – becomes an Angling Trust Ambassador.​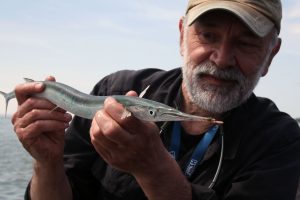 Each year, the Angling Trust introduces tens of thousands of newcomers to fishing, helps people get back into angling and rediscover all the health and mental wellbeing benefits that fishing offers through time well-spent outdoors in nature. While angling was one of the few sports allowed to continue throughout most of last year's lockdowns, most fishing lessons were stopped temporarily in the Trust's efforts to help "Stop the Spread".
Artist Andy immediately 'stepped up to the plate' by allowing the Angling Trust to distribute his free resources to keep kids and newcomers entertained and occupied while the nation stayed at home due to Covid. His colouring-in sheets of the kind of colourful fish that beginners encounter – like perch and carp – even featured in the nation's home-schooling efforts!
Andy told the Trust that fishing has always been a driving-force in his life ever since starting his angling-journey at
Blackpool's Stanley Park Boating Lake
, using a solid fibreglass rod and a 'Tru-Spin' reel. Andy has enjoyed a life full of all kinds of fishing from the moment he was 'hooked on fishing' after catching a slimy bream right through to his most memorable (…and exhausting) angling moment, that of landing a 186cm Sturgeon using a centrepin reel. What an accomplishment!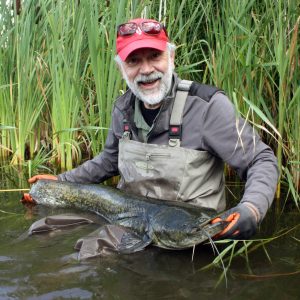 Andy Steer with a catfish caught using the unusual and interesting tactics described in his works
Andy told us more about his fishing-life:
"
I'm honoured to be asked to join the Angling Trust team of Ambassadors, and I hope that my step-by-step drawings and videos will help young and aspiring anglers build a solid base of tried and tested, reliable knots, enabling them to land more fish, have more pleasure, protect the environment and even save money by losing less tackle!

I enjoy all sorts of fishing, it's just great to get out and about angling, there are so many new techniques to try, and that super 'undiscovered swim' we all dream about is always 'just around the corner'…

It's been an interesting journey, researching info on knots and rigs for various angling disciplines. Along the way I have met some very passionate and dedicated anglers and been lucky enough to help with their projects.

I'm extremely grateful for all the opportunities and help. Thanks to: John Bailey, Mick Brown, Luc Coppens, Julian Cundiff, Henry Gilbey, Nick Hart, Rex Hunt, Lefty Kreh, Tim Paisley, Mark Pitchers, John Wilson and all the unnamed anglers too!

Angling must be one of the most diverse sports, with endless possibilities, whether it's gregarious with a band of likeminded folk, or a solitary pastime, fully immersed in the surrounding nature. Fishing offers a special kind of mindfulness with physical benefits too.

Tight lines and strong knots!
"
We think it's great that Andy's work can help all people – anglers or not – and that it is useful for all ages and abilities. There's something for everyone in a style that's so unique.
Andy's drawings and instructions
are completely user-friendly and fun to look at, but at the same time are educational and "accurate".
Thanks to Andy for supporting the Angling Trust and helping young and new anglers through what's been a tough year for everyone!
DID YOU KNOW THAT…?
The Angling Trust Fishing Buzz website became the go-to-place for fishing related entertainment during Covid lockdowns, and Andy's fishing knots, species, guides and colouring sheets helped parents and carers keep youngsters interested in going fishing.
Although the type of tackle Andy used to start fishing back in the day has long since been retired from use and modern materials like carbon fibre and lightweight alloys have replaced 1970's "tech", the city-centre boating lake he started his angling journey at continues to be a popular urban fishing venue. Ironically the place Andy started fishing is now one of the waters that the Angling Trust has used as a lesson-venue to get hundreds of people hooked on fishing in its successful Get Fishing campaign!
The Environment Agency funds the Angling Trust to organise hundreds of beginner-lessons every year, with money reinvested in things like fishing lakes, fishing platforms and even fish stocks, all paid for by anglers through fishing licences they buy to fish legally and safely in freshwater rivers, canals, lakes and streams. Get a fishing licence and fish legally – gov.uk/fishing-licences
The post
Artist Andy Steer to be new Angling Trust Ambassador
appeared first on
Angling Trust
.
More...